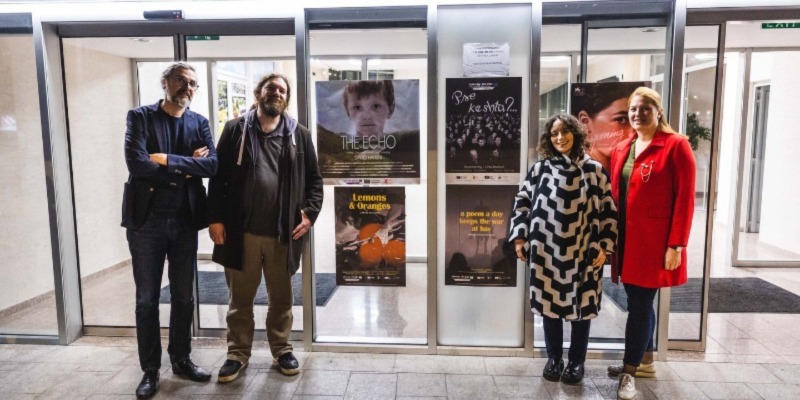 RECON short films at the Ubrzaj 2022 Film Festival in Podgorica
Overview
From 10 to 14 December the Ubrzaj 2022 Film Festival took place in Podgorica, the first and only of its kind, dedicated to the film sector and focused on the desire to communicate human rights issues in Montenegro through the medium of cinema. Precisely provocative and direct, the medium of film is an excellent way to truly look face-to-face with victims and perpetrators, intolerable injustices and incredible heroism, human weakness and strength in the modern age. In this year's edition of the Festival, among others, the four short films made thanks to the RECON project were also selected and presented to the public:
The Echo by Dario Haruni
Synopsis: The film deals with the relationship between religion and faith in a Jungian manner, looking for a way to find unity between these two polarities.
Lemons & Oranges by Enxhi Noni
Synopsis: It is summer, a day in the life under the blistering heat. This is an archival journey through different pairs of eyes and different layers of skin - all in the hopes of finding somewhere to sit and do nothing, while the world around you always wants you to do something.
Pse Keshtu? by Una Jovovic
Synopsis: This work as social commentary is tragic and comical at the same time in dealing with traumatic collective memory of Albanians under the totalitarian rule of communist leader Enver Hoxha. As a collage of newsreels and propaganda documentaries of that era, this work is comparing political fantasies and real personal stories with applause interpolation and electronic dance music.
a poem a day keeps the war at bay by Tamara Pavićević
Synopsis: 20th century Albanian history told through the poetic lens of an outsider. Can we forgive the people who came before us for not doing enough?