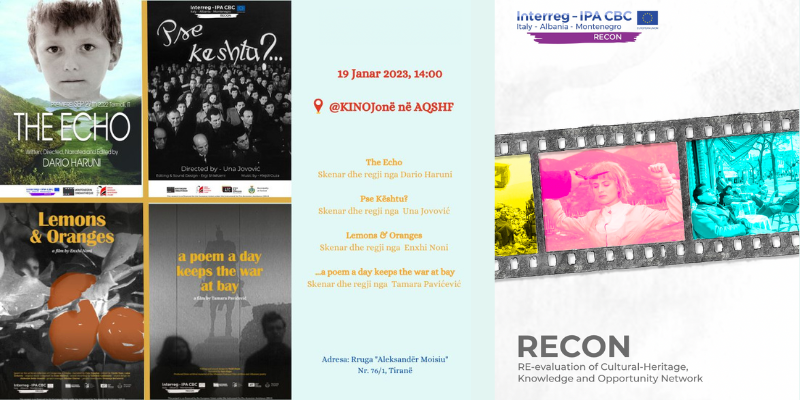 Project films showing at Arkivi Qëndror Shtetëror i Filmit
Overview
The Albanian National Film Library, as part of the RECON project, presents on Thursday 19 January at 2.00 pm, a preview of the four short films produced by Albanian and Montenegrin artists selected during the project activities through a public call. 
During the event, the four short films will be presented "The Echo", written and directed by Dario Haruni, "Pse Kështu?" written and directed by Una Jovović, "Lemons and Oranges", written and directed by Enxhi Noni and "a poem a day keeps the war at bay" written and directed by Tamara Pavićević. 
In particular, the initiative aims at promoting the regional cooperation, research and engagement with the Montenegrin and Albanian film  archives as well as at   encouraging the discovery of  history  outside the mainstream  culture based on archival film material, through the production of video installations and short films  based on archival material of the Albanian and Montenegrin archive collections.
The directors of the Albanian National Film Archive and the Montenegrin Film Archive, Nemanja Becanović and Marinela Ndria will attend the event.
The event, in line with the objective of the project will represent a valuable opportunity to promoting the use of film heritage as  a means of encouraging cultural exchange.